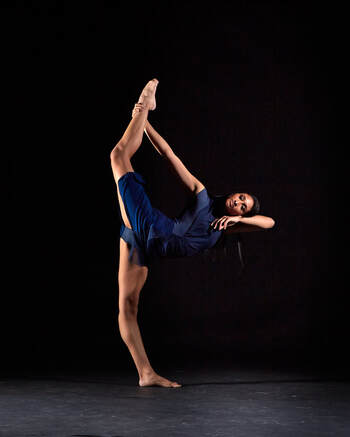 Stephanie started dance at age 14!
I am from Los Angeles, CA, and am currently living here again now! I didn't start dancing until age 14, after many years of competitive gymnastics, and decided within a few months of dance training that I wanted to become a professional. I had to work super hard to catch up, and I know what it feels like to walk into a ballet class and not understand a word the teacher is saying!

She is a graduate of the Alvin Ailey/Fordham BFA program.
In 2020 I graduated from The Ailey School and Fordham University with my BFA and a double major in Dance and History! My biggest achievement in school was being selected to choreograph an evening length work (it ended up being 40 minutes long!) that premiered just days before my school closed down because of Covid-19. I've also had so much fun working with and performing for Chasen Greenwood since being in LA!
Stephanie discovered her passion for teaching during the COVID lockdown.
When I moved back to LA during the pandemic, I opened up an outdoor studio and taught private and small group classes to many different children, including a winter recital and a summer camp. I was also fortunate to be an assistant and substitute teacher for Janice Rosario at the Ailey School via zoom! I learned so much about teaching from these experiences and most of all, learned that I love doing it. My teaching style is about fun and encouragement, but also about consciously taking little risks each class to push yourself farther than you think you can go!
Her dancing career is just getting started!
I hope to continue to expand my dance career by performing and working with companies, continuing to create my own choreography and perhaps starting my own dance company. In the more distant future, I hope to open up my own dance school. I am so lucky to love what I do!